The week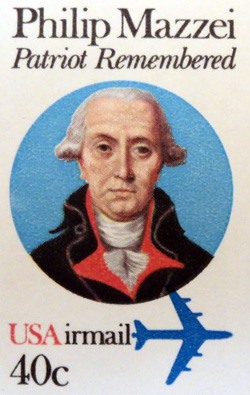 In the two-hundredth anniversary of the death of Filippo Mazzei (Poggio a Caiano 1730 -Pisa 1816) the club named in his memory has prepared, in collaboration with the Municipality of Pisa and organizations, cities and organizations that have shared the intent, a week of celebration, "The Friendship Week about Philip Mazzei", as a moment of consecration the figure of this great man, a friend of the first five presidents of the United States, full of events that will strengthen and stabilize the partnership and friendship between the city and the tower those Member States' America in which our Tuscan called the most important season of his life.
A scientific committee has prepared the organization in the week 13 to 20 March 2016 series of moments of cultural comparison between Italian and US academics in places of great historical themes of activity in the life of our Tuscan that are going to intersect with events with tourism and artistic and food-related giving, with local institutions, the right to recognition Filippo Mazzei and his fantastic story of life "Tuscan made ​​America" ​​who chose Pisa and Tuscany for his last 24 years life after having worked and lived in his youth as a doctor (Florence, Livorno, Smyrna) and merchant (London) following revolutionary, political and constitutional panphlettista (USA) and consequently Ambassador Virginia (Paris) and counselor of the Court (Warsaw) to then decide to return to live in Tuscany, Pisa, "new Socrates".
The cultural project, as the cosmopolitan man, provides an obvious activity in the city where he decided to end his life but with obvious and discounted projections in Poggio a Caiano, city of birth, Livorno, from where he left for Virginia " with the ship loaded with ... ", and of course the Tuscan capital Florence headquarters periodic visits and youth training involving Local, Regional and National Institutions, the Foreign Ministry and the US representatives in Italy.
The week will include a full program of opportunities to visit these cities in addition to the legendary Vespa Piaggio Museum of the wine cellars of the Chianti and Bolgheri, the legendary Theatre of Silence of the Maestro Bocelli in Peccioli at the Masonic Temple of Minerva Medica in the Palaia " Rosslyn Italica ", from the beautiful beaches of Versilia the quarries of Carrara and the memory of Michelangelo's legendary Forte dei Marmi the local symbol, the Shed Gherardo Guidi, the oldest restaurant bar in the world and the Twiga disco bar the top manager Flavio Briatore. Culture, friendship Italy Use, history, guided tours to the most beautiful monuments, wine, food, wineries, castles and evenings in villa for a week in memory of an Italian he did, next to Jefferson and Washington, the US.
The organization and prices
With only 1,600 Dollars (excluding flight) food, stay and tours. For more information contact: circolofilippomazzei@gmail.com
Newsletter!
Register and you will be subscribed to our newsletter to stay updated on the news.